"How's Mo?"
As one might imagine, we hear this question frequently, and we are thankful to be able to answer that overall he is doing very well. Despite the challenges, the weeks remain filled with a lot of laughter. At the core of recent progress is an improvement in sleep. He is falling asleep earlier and reaching a deeper sleep more quickly almost every night - especially during and shortly after his breaks from chemo (six weeks on/two weeks off). He generally wakes well rested between 9 and 10. This has led to improvements in his energy level, strength, balance, ability to concentrate, and general happiness. Despite our seemingly endless efforts to adjust his meds to improve his sleeping, it appears that the most potent tonic has been what Dr. Anne calls the tincture of time.
But, to be specific, the question "How's Mo?" has a complex answer. As the dust of the Bone Marrow Transplant (BMT) settles, we can see that Mo has several distinct challenges - each with its own issues, recovery schedule and recovery potential. The list goes something like this:
Cure
Eating
Strength, Energy, Balance
Hearing and Education

Back in uniform to pose for the UWCH monthly magazine
Cure


For a while yet (perhaps another year), Mo will continue to have an MRI scan every 2-3 months. Families dealing with pediatric brain tumors (PBTs) learn to adapt their lives to the interval of time between MRIs. Mo's next MRI is on Monday May 17. His previous MRI showed a new abnormality in a different part of his cerebellum. The docs in Madison and Memphis feel that it is not a tumor, though if there is something you will never find in the Land of Cancer Treatment, it is certainty, therefore, we are all a bit nervous.


A Dilemma


Mo continues to be on a home-based chemotherapy regime, but here life has presented us with a dilemma. One of the medicines which Mo is taking has shown to be very effective against medulloblastoma cells in laboratory tests. Many of the Oncology docs around the country are very encouraged by these results and are moving forward with using the drug as part of a treatment plan. However the drug can also have nasty side-effects including depression, sleep disruption, and stomach problems The treatment plan, which is untested, designates taking the medication two weeks on, two weeks off, continuously for about 1 year. Mo has already experienced quite a few side-effects, so we have drastically reduced the dose to a level which he finds tolerable (which is about the very least amount we could give him). As often happens in the ordeal of PBTs, we have reached a point where the path branches (one path, a low dose, real benefit unknown; the other path, stop the medication, and possibly lose out on it's benefits) and we have very little knowledge with which to make a decision about which branch to follow. While we know some of the risks, nobody knows what the traveling conditions will be like or what will happen along the way. With little knowledge we try to balance risk with quality of life and forge ahead. There is no standing still though I often wish we could.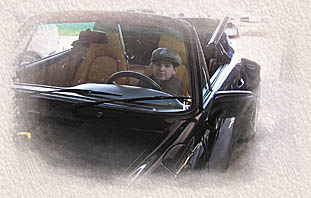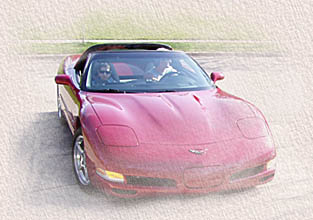 Tooling around in Cousin Mike's Porsche and neighbor Joel's Corvette
Eating


While there are developments in eating, none of them have to do with actually eating. Mo continues to depend entirely on enteral (feeding tube) feeding for his nutrition. Unlike some of the other children with brain tumors who's parents we are in contact with, Mo has never been able to handle large "servings" of the liquid food (bolus feeding), nor have we been able to feed him at a rate higher than 85ml/hr (and even that causes problems). As a result, Mo needs to receive food pretty much continuously.


On 4/26 Mo had an xray study of his upper intestinal tract,called an upper GI, to see how well his stomach was emptying. We found that he had serious gastroesophageal reflux (which excited the GI doc but was no surprise to us), but we also found that he has "Superior Mesenteric Artery Syndrome". This is a relatively rare condition in which the stomach is squeezed by a few arteries that surround the stomach, making the stomach difficult to empty. The squeezing is less severe when Mo lies on his side, which is why we are able to feed Mo at a higher rate at night with fewer problems. The GI doc explained that the condition is caused by a sudden weight loss, which causes the loss of the fat which provides a cushion and support of the arteries so they don't impinge upon the stomach. Mo actually gained quite a bit of weight during his bone marrow transplant (he was on IV feeding or TPN), but has lost all of it and then some since then. So at least we know why he has had some trouble with the tube feeding. The other helpful discovery has been the use of an "elemental" liquid food, which is much easier to digest. He has significantly fewer problems with feeling full since he started using it.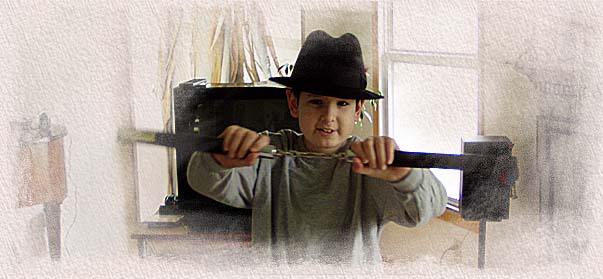 Strength, Energy, Balance


As we move further from BMT and sleeping improves, more stuff gets done. Mo actually walks around the house a little bit without any assistance, although he is much safer when he uses his walker. We all hold our breath when he does this, and in his eagerness to walk he has taken a couple of nasty falls. He fell down 2 stairs in the garage on the way to a party at school, the pain and anger of which caused him to miss the party. A fall on Mother's day put him back in the wheelchair for the last week with a very sore knee. While he is out of the wheelchair alittle, the pain and weakness persist, so we will probably have to have the knee checked out. Unfortunately it looks like this will set his walking progress back a few weeks.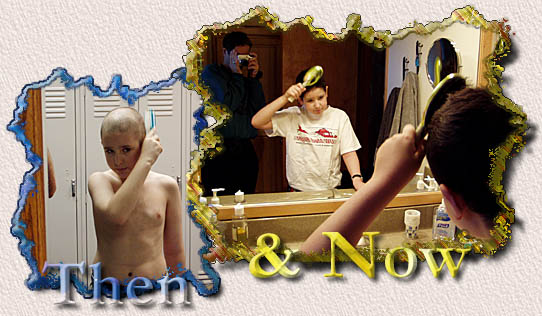 When the warm weather graces us with its presence, Mo sits outside and squirts Mabel with water, plays some gentle sports, or just enjoys the fresh air. On 4/21 he attended school to show off his beautiful new head of hair in his class picture. I brushed his hair as we prepared to go. He commented that this was the first time in a year and a half that he has had enough hair to brush. This progress marker hadn't escaped my notice either.


In January, when he started PT, Mo was not able to sit on the floor - his muscles were stiff and it hurt to bend his knees. Now the living room is once again cluttered with Legos and toy cars and the music of Mo's playing and pretending can once again be heard in our house. Mabel, who has been amazingly gentle with Mo throughout this ordeal, again has someone besides Becky and I to disturb her laziness.

Hearing


It has occurred to me that, under normal circumstances, we would probably be devastated if our child had a sudden severe hearing loss. But in this exceptional situation, we didn't even have time to think about it when it occurred. It's kind of like Star Wars, when Luke Skywalker's hand is severed during a fight, but he can't be bothered with minor detail like that, he just keeps on fighting. But now that that battle is over and we are addressing the wounds, we have realized that unlike Luke, who lives far enough into the future to receive a bionic replacement, technology is not advanced enough to help Mo communicate thoroughly - especially in school where he has to absorb a lot of information in a short time. There is an answer, but it is low tech: sign language.


As we have looked into options for hearing disabled students, we have realized that learning some sign language will allow Mo to fully understand and participate in the classroom. Fortunately, there are target schools in Madison (one each of elementary, middle, and high school) which provide comprehensive programming and staffing for hearing impaired students. We have only recently realized that we need to incorporate this into our lives, so plans are still being formulated. Look for sign language lessons at the Egfelt house in the near future. Mo's hearing loss is one of several sources of frustration as we navigate this ordeal. There are many times when it is difficult or impossible for him to participate in conversations in our home, much less out of the house. We have already started using finger spelling to spell words which Mo has trouble understanding, and I look forward to learning sign language and eliminating some (maybe even all) of these frustrations.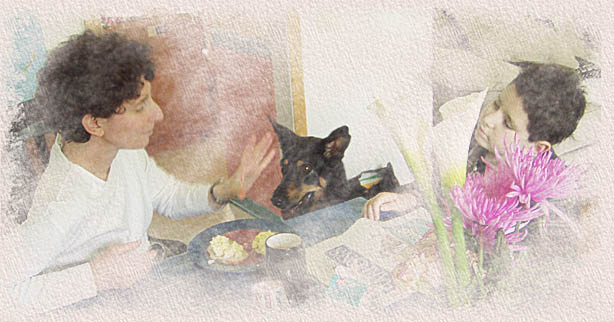 Final Thoughts


As Don Miguel Ruiz points out so insightfully in his excellent book, The Four Agreements, we all wander through life submerged in our own dreams. All of our hopes, aspirations and expectations are tightly knit into our beliefs and our personal vision of who we are, what we want from life, what we want to become. Our lives are guided by those dreams - they draw us forward. While nearly everyone's life has been touched by cancer (so toxic has our environment become), when it hits close to home you learn that cancer infects our dreams as well as our bodies. And it is not only the dreams of the cancer victim which are infected, but the dreams of parents, siblings, grandparents, relatives, friends, teachers, and many others within the victim's sphere of influence. Each person's dreams are uniquely infected.


The dreams of children are especially vivid. To have a conversation with Mo is to get a glimpse of his dreams. In any given week you might hear of plans to be a policeman, mechanic, comedian, actor, railroad worker, reporter. It has become clear to him that there are some things he will no longer be able to do, but, amazingly, when he is feeling well his dreams show little sign of being infected. During treatments and when he is feeling lousy, when he needs to focus on acute issues, his dreams retreat, no longer evident in his personality.


The dreams of adults are more complex than those of children. They are a more intricate tapestry. Woven into the fabric of parents' dreams are those we have for our children. When a child shows an interest in anything, we envision tremendous success - president of the US, a rock n' roll drummer, police chief... Cancer is caustic to dreams. Some dreams are dissolved by cancer, others injured, others disfigured. Only the very strongest dreams can resist the infection.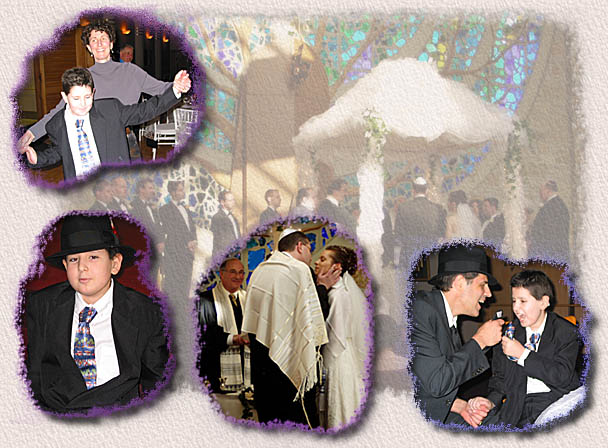 Partying hard at cousin Mindi's and Howard's wedding 5/1/04.

Most peoples' lives are marked by events which act sort of like bookends for periods of time. Anniversaries, birthdays, and paychecks are common events for marking time. For families infected by brain tumors, MRIs also mark periods of time. The MRIs are scheduled to tell us what is happening before any symptoms are likely to appear. Each MRI puts paint on the canvas of our lives until the next MRI. We can look ahead and see what will probably happen. In an instant, an MRI can drastically change our knowledge of the present. Understandably, MRIs are scary, and cancer infected dreams are very vulnerable to FEAR, so as an MRI nears many dreams become dormant. Our expectations for the future become tentative. As the future blurs, the present becomes poignant and hangs more heavily in the air. "Take one day at a time" we have all learned. A dull moment can be enlivened by a joke, pretend play, playing with the dog. You must strive for quality time because now is the only time you are guaranteed to have. Someday Mo's MRIs may be a year or more apart, but for now they are 8 - 12 weeks. Next Monday is Mo's MRI.


People often ask what they can do to help Mo. He already has much more than enough to do during the hours when his energy is good, so he really doesn't need any gifts (well maybe a couple more comic books). To break the routine, a visit is probably the most valuable gift you can give Mo. But I think another thing you can do is to learn from Mo's experience, so as we near the next MRI, and my dreams become unglued, and I lose sleep like so many of the other parents of children with cancer who approach THE TEST, I will climb onto my soap box and say this:


Maurice is the second rare, life threatening childhood cancer to occur within a block of our house within a 2 year period (the second cancer that I know about, there very well may be others). A couple of years ago our accountant, a neighbor and a healthy woman in her mid fifties, developed and died of breast cancer within a year. She was a wonderful woman - I'm sure she was looking forward to an enjoyable retirement to end her life. In another family nearby, both parents developed cancer a couple of years ago. The father died within a year. The mother continues to struggle with breast cancer. As mentioned on Mo's home page, my childhood friend Chris McHugh fought a 5 year battle with breast cancer before passing away at age 40. I've met a couple of kids at the hospital with life-threatening cancers who are from Chris' small town near Madison. My cousin Janice and her husband Arnie both passed away from cancer about 8 years ago. It is clear that these cancers are a response to the toxicity of our environment. There is a plethora of studies which demonstrate the links between chemical exposure and cancers. I could go on about this for ages, but the bottom line is that with our unprecedented capability to produce and consume stuff, we generate an unprecedented amount of pollution. We all know that cars dump vast quantities of pollution directly into our habitat, but consider that every lake in the US is polluted with mercury from our power plants - that mercury doesn't just fall in the lakes, it is everywhere. Consider that when you drink a can of soda or a bottle of water, the production, shipping, and disposal of that "beverage" uses vastly more energy and creates much more pollution than is justifiable for quenching one's thirst. Consider the amount of pollution we produce when 6 billion people each drink a single can of pop. In the US alone, we consume over 10 billion cases of soda per year. Why on earth do we need to import water from Fiji or France? I wish I could calculate the amount of pollution dumped into our habitat when we ship a boat load of water from Fiji and distribute it throughout the US. Environmental Toxicology 101 will tell you why we shouldn't.


We are playing a game of Russian Roulette with our uncontrolled consumption. Our bodies are cauldrons for mixing toxins. Those with the least tolerance lose the game. Consider:
More than a half million US citizens will die of cancer in 2004.
Almost 1.4 million new cases will be diagnosed
Cancer strikes one in every 333 persons by the age of 19.
1 in 8 women in the US will develop breast cancer in their lifetime
3 out of 4 men will develop prostate cancer in their lifetime.


I shudder when I look out the window and see people dumping tens (perhaps hundreds) of thousands of gallons of poisons onto their lawns (in Madison alone). I cringe when I watch the children play on or next to poisoned yards, when I see the wind carry the chemical laden dust into our windows, when the rain washes the residual chemicals into our 5 lakes. We didn't use to do this, it is a product of chemical companies looking for new markets for their wares and it is very unsafe. A couple of years ago I found a dying chipmunk in our yard, it was stiff and shaking. It had been poisoned when a neighbor had their lawn sprayed. What folly to think that these chemicals are safe! There are healthy alternatives to poisons for those who want to a homogenous green lawn. In Madison, a group of people has organized the Greater Madison Healthy Lawn Team to provide information for habitat-friendly (and I'm referring to our human habitat) techniques of lawn care.


There is lots of information on the web about the dangers of chemicals. You won't find it in your newspapers because the implications for attacking the cause of cancer (i.e. reigning in our consumption) are too frightening to manufacturers, perhaps society as whole. There are many articles on the link between chemicals and cancer at the Chem-Tox website. Here is an example:
---

Neuroblastoma Linked to Homes Treated with Pesticides
SOURCE: Epidemiology: 12(1):20-26, January, 2001

Neuroblastoma accounts for approximately 10% of all childhood tumors...approximately 1 per 100,000 children under age 15 on a national level [are affected]...It is a very serious cancer as approximately 60% of children over age 1 who develop neuroblastoma do not live 3 years even when receiving treatments of radiation and chemotherapy. Children under age 1 have a more positive prognosis...
...Results showed that using pesticides in and around the home resulted in a 60% increased likelihood of children developing the disease (Odds Ratio=1.6). Looking at pesticide use for the lawn and garden only resulted in an increased risk of 120% (Odds Ratio=2.2) when the mother had applied pesticides in the yard and 50% higher (Odds Ratio=1.5) when the father had applied pesticides in the yard. (Chem-Tox Note: Outdoor pesticides are much different from indoor pesticides as they include fungicides and herbicides some of which have been reported to contain dioxin).


---


The Center for Children's Health and the Environment website also has information about the
relationship between cancer (and other serious childhood maladies) and chemicals.

In closing this entry, I pay tribute to 2 children who were lost to brain tumors in recent weeks. 7 year old Savannah, who passed away on 4/30/04 about 18 months after diagnosis. If you visit her webpage, you will see her picture and a picture of her portrait tattooed on her mother Lisa's body. I think you would have to look far and wide to find any literature more touching and graphic than Lisa's chronicle of Savannah's last days and saying good-bye. Also, Maddie, a 14 y/o young lady from Minnesota who passed away on May 6 about 1 year after diagnosis. Maddie's family did not participate on the same listserv that I am on, so I don't know them, but I was struck by the fact that she authored her own website for most of her journey through this land. It shows amazing maturity and bravery. Both Savannah and Maddie died from an incurable type of brain tumor (diffuse pontine glioma). How does young innocence face a slow tragic death? Check out their websites.

I apologize if I offend, but I can no longer conscience holding my tongue. Please think about your consumption. There is only one habitable planet within reach, and we are on it. We all swim together or we all sink together and we are all part of the problem. The only question is how much a part of the solution each of is, which is answered by how we consume. I'm not suggesting we revert back to stone age technology, but it is beyond a shadow of a doubt that we can all drastically reduce the amount of pollution for which we are responsible.
| | |
| --- | --- |
| Don't do it for Mo, his hand has been dealt and we are playing it out. Do it for yourself, your family, your neighbors, your retirement ;-) | |